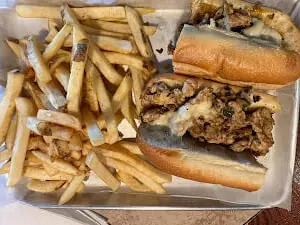 Indy Chicken Cheese Steak
Seafood Fries with Cheese
Veggie Cheese Steak and Chicken Salad with Shrimp
Crab Cake Dinner with Mashed Potatoes
At End Zone, we take pride in serving fresh, high-quality food that will satisfy even the pickiest of eaters. From classic pub fare like wings and burgers to more upscale dishes like Quesadillas and Steak, we have something for everyone. And if you're looking for something to share with friends, our appetizer menu features a variety of crowd-pleasing options like loaded nachos and mozzarella sticks.
Our bar is fully stocked with a wide selection of beers, wines, and cocktails. Whether you're in the mood for a cold beer while watching the game or a fancy cocktail to sip on, our bartenders will be happy to mix up something special just for you.
 End Zone is the perfect place to catch a game or meet up with friends for a night out. Our spacious bar area features multiple TVs, so you can watch all the big games while enjoying your food and drinks.
At End Zone, we believe that food, and fun are the perfect combination for a great night out. That's why we've created the ultimate bar and grill, where you can catch all the big games, enjoy delicious food, and have a great time with your friends and family.